Single-Visa to Cambodia & Thailand

Citizens from 35 nations qualify, seen paving the way for single Asean visa

Source from: The Nation





From today, tourists from 35 countries need only apply for one visa to visit both Thailand and Cambodia. This is part of Acmecs Single Visa - the first step toward an Asean version of the European Union's Schengen Visa scheme.

Visitors who want to visit both countries can apply for a visa at either country's embassy.

The Acmecs Single Visa should boost tourism in both countries as well as fulfil Thailand's objective to become a regional hub for tourism, said Foreign Minister SurapongTowichuk-chaikul, who jointly chaired a joint commission on bilateral cooperation with his Cambodian counterpart HorNamhong yesterday.

Acmecs stands for the Ayeyawady-Chao Phraya-Mekong Economic Cooperation Strategy, which groups Cambodia, Laos, Myanmar, Thailand and Vietnam. All Acmecs members are part of Asean, and the Acmecs Single Visa is expected to pave the way for an Asean Common Visa.

The original idea to have a Schengen-style tourist visa was introduced at a meeting in Bagan, Myanmar in 2003 between leaders of Cambodia, Laos, Myanmar and Thailand. At the meeting they launched the "four countries-one destination" scheme, which Vietnam joined later. Foreign ministers of Acmecs then agreed at a 2005 meeting in Siem Reap that Thailand and Cambodia would try to implement the single-visa strategy first. "If the initial project is successful, then the remaining Acmecs members will join the scheme," Surapong told the press.

HorNamhong said the two nations would most certainly benefit from the single-visa scheme as it would make travel between the two countries more convenient.

As for concern that traffickers might exploit the scheme, both countries have a "pre-clearance" system.

For instance, if a visitor applies for a visa at a Thai embassy, the documents will be forwarded to its Cambodian counterpart for approval, which will have the authority to reject the application, and vice versa. Also, visa fees for both countries will have to be paid. For instance, the Thai embassy will charge Bt1,000 for entry into Thailand and the tourist will have to pay the Cambodian visa fee upon arrival in that country and vice versa.

As per details provided by the Thai Foreign Ministry, neither country will issue a "multiple-entry" visa.

Up to 21 million people have visited Thailand this year, while Cambodia has had 2.3 million visitors in the first eight months of 2012.

PiyamarnTejapaiboon, president of the Tourism Council of Thailand, said the scheme will be slightly more beneficial for Cambodia, as tourists visiting Thailand will be able to extend their stay.

SisdivachrCheewarattanaporn, president of the Association of Thai Travel Agents, added that the scheme should help boost tourism in Thailand because travel agents will now be able to offer Cambodia as an additional destination.

Apart from the single visa, the two ministers also discussed several cooperation strategies at the meeting yesterday, including joint efforts in the security, economic, social and cultural spheres. They also agreed to set up a permanent border checkpoint between Ban NongAian in SaKaew province and Stung Bot in Cambodia's BanteayMeanchey province, as well as a temporary checkpoint at Sa Kaew's Ban Non Mak Moon and BanteayMeanchey's Ban Pray Chan.

Thailand will also do a feasibility study on upgrading a road linking the Stung Bot checkpoint to Cambodia's Highway No 5 to Phnom Penh. The State Railway of Thailand will also provide assistance in building a railway bridge connecting SaKaew'sKongluek village with Poi Pet in Cambodia to facilitate trade and tourism.

So far, the two countries' annual bilateral trade is worth about US$2 billion (Bt61 billion), HorNamhong said. "Both countries have agreed to increase some 30 per cent of trade annually, but I expect more," he said.

Surapong also spoke to HorNamhong about allowing jailed Thai activists VeeraSomkwamkid and RatreePipattanapaiboon to return home. The two were imprisoned for trespassing and espionage two years ago. Ratree, who has served a third of her term, is qualified to return to Thailand as per a bilateral agreement, he said, adding that officials were working on the case.

Event & Promotion
Visited :00000239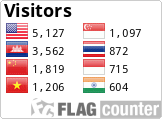 Why Travel With Us . Partner With Us . Jobs & Volunteers . Privacy Policy . Photo Gallery . Terms & Condition .